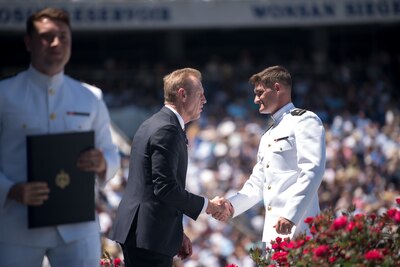 As the midshipmen of the U.S. Naval Academy begin their active duty careers, Acting Defense Secretary Patrick M. Shanahan told them to continue to learn — and especially to learn from their inevitable failures.
"I need you to learn and be better than yesterday every day," the secretary told the more than 1,000-member graduating class in Annapolis, Maryland.
The secretary specifically talked to the class about failure. Midshipmen are not used to failure. The members of the class are among the best and brightest in America, and they are hard-wired for success. "For such a successful class, failure is largely an abstract concept — something for others to consider and deal with," he said.
My first piece of advice is this: When the project or mission appears slated for failure, stay the course. Find a better path, and don't you dare quit."
Acting Defense Secretary Patrick M. Shanahan
That is dangerous to the newly minted Navy ensigns and Marine Corps second lieutenants, Shanahan said. "If you ever studied the Samurai culture in feudal Japan, you know the most feared, most dangerous of all Samurai were those who had felt the cut of their opponent's sword and lived to fight the next battle," he said. "Why? Because they no longer feared the sword! They could — and would — press the fight, knowing the danger, but unafraid of it."
In the business world today, investors not only look for good ideas, but for entrepreneurs who have pushed the envelope and perhaps failed, Shanahan noted. "They are smarter, wiser, less arrogant and more capable than those who have never failed," he said. "If you have never experienced failure, if you have not felt the cut of the blade, then when failure finds you, you won't know how to recover. It will crush your image of yourself. It will hurt too much. It will be embarrassing. It will stop you from becoming who you could be."
Fear of failure could stop smart people from pushing that envelope and to shy away from testing limits, the secretary said. "You must resist that temptation," he told the Class of 2019. "Kill that fear. The U.S. Navy and Marine Corps exist to fight, not simply to stay in position. Your country and this department need naval officers who don't simply identify problems, but roll up their sleeves and get really hard stuff done."
The zero-defect mentality is dangerous in the profession of arms, the secretary said. "It will not lead you to greatness, but to mediocrity," he told the graduating class.
Dealing with failure — and learning from a project or mission that went wrong — is key to growth, Shanahan said. "My first piece of advice is this: When the project or mission appears slated for failure, stay the course. Find a better path, and don't you dare quit," he said. "Real opportunities for greatness reveal themselves when things seem at their darkest. Easy to say, 'Don't quit.' But by now, you've learned the hard truth: Many people cannot handle the pressure of being close to failure and staying the course."
Tough assignments — with a real chance of failure — will teach the new officers much more than guaranteed, more high-profile assignments, the secretary said. "Start early. Pick early assignments that will stretch and prepare you for the day when it really matters," Shanahan said. "There will always be hard jobs nobody wants for fear it will make them look bad. Seek them out. The definition of grit is the ability to do something extremely hard for a prolonged period of time. Get grit.
"In a proverbial sense, we will need you to go 15 rounds with Mike Tyson — every day," he continued. "The good news is after a couple weeks, you aren't afraid of Mike Tyson any more. Once you lose that fear, once you really internalize that it's not about you, but about the mission, then the shadow of your leadership reaches across your team and inspires them not to lose hope when times are dark."
Shanahan also called on the midshipmen to not be trapped by the past. "In an era of renewed great power competition, with massive changes driven by new technology, we simply cannot replicate what worked in the past," he said. "In business, when companies fail to adapt, they go bankrupt. In national security, when militaries fail to adapt, they lose wars — hot and cold."
In today's complex world, the new officers will face threats no one can forecast. These men and women will face the threats with no instruction manuals or precedents.
"The heavy lifting of changing the status quo as we move to meet this era of great power competition has begun," the secretary said. "You will inherit our work of reshaping the department, strengthening our alliances and reforming our management practices. So, have a keen eye that can see what 'better' looks like. Don't be afraid to buck the system so we have what we need to fight and win. Think — don't copy."