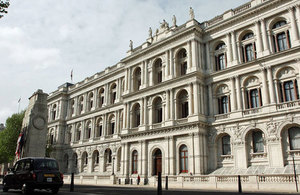 The report covers a broad range of political and economic developments and an overview of UK-Hong Kong bilateral activity over the reporting period.
Writing in his foreword, the Foreign Secretary, The Rt. Hon Dominic Raab MP reflects on events since 1 July not covered in the report itself.
He encourages all parties to:
look ahead to the path towards de-escalation and political resolution. Protesters must end the violence. The police response must be proportionate in their handling of protesters and safeguard the right to peaceful protest. And there must be a meaningful dialogue between all parties, with a credible political track to protect the rights and freedoms set out in…the Joint Declaration.
The Foreign Secretary concludes by writing:
Hong Kong's high degree of autonomy and rule of law is what guarantees its future prosperity and success. It is incumbent on all sides to respect it.
Further information
Read the report in full: Six monthly report on Hong Kong: January to June 2019
Follow the British Consulate-General Hong Kong on Facebook and twitter @UKinHongKong
Published 31 October 2019