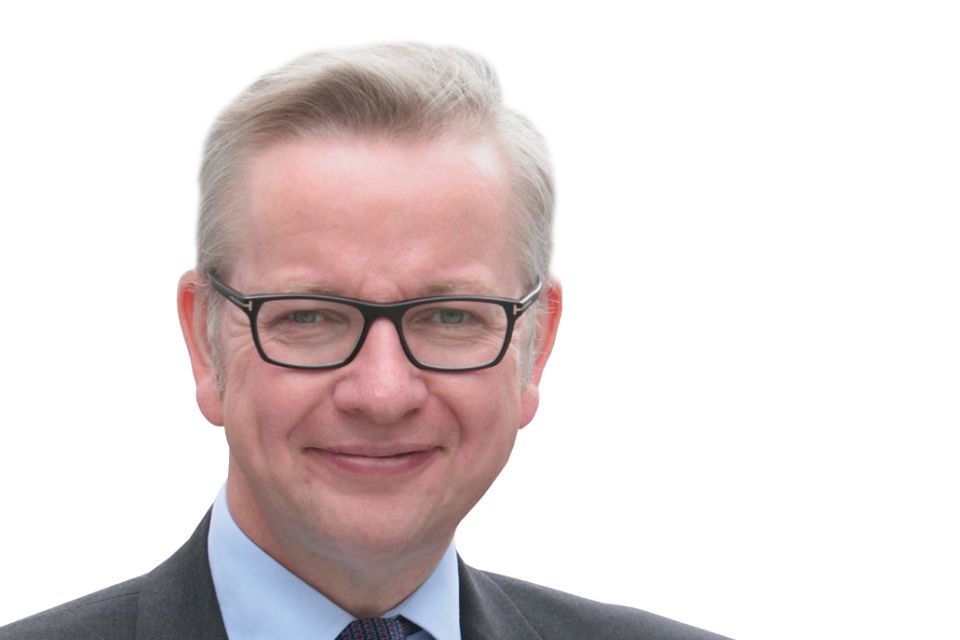 MIchael Gove, Secretary of State for Environment, Food and Rural Affairs, today gave a speech to the National Farmers Union, detailing plans for agriculture post-Brexit.
Gove warned of the dangers of a no-deal Brexit on the farming community, including tariffs on exports which could damage the industry:
If we leave without a deal then there will be significant costs to our economy – and in particular to farming and food production.

As things stand, just six weeks before we are due to leave, the EU still have not listed the UK as a full third country in the event of no deal. That means as I speak that there is no absolute guarantee that we would be able to export food to the EU. I am confident we will secure that listing, but in the event of no deal the EU have said they will impose strict conditions on our export trade.

If we leave without a deal the EU has been clear that they will levy the full external tariff on all food. That means an increase of at least 40% on sheep meat and beef, rising to well above 100% for some cuts. The impact on upland farmers and the carousel trade in beef would be significant and damaging.

If European buyers do switch contracts because tariffs make our exports significantly more expensive it will be difficult to re-establish our market access even if those tariffs come down in the future.
Gove also warned of the impact that border checks would have on exports:
All products of animal origin entering the EU would face SPS checks. The EU's current position is that 100% of imports would need to be checked. In order to be checked every import would need to go through a border inspection post.

A huge proportion of our food exports to the EU currently go through Calais. As I speak there are no Border Inspection Posts at Calais. None. The French authorities promise to invest in BIP capacity but with just six weeks to go we face considerable uncertainty over future arrangements.

The requirement for checks will inevitably slow the processing of exports, and for every lorry that is delayed at Calais there is a knock-on effect for other haulage and the rapid turn-around of roll-on roll-off ferries.

We can expect, at least in the short term, that those delays in Calais will impede the loading of ferries, constricting supply routes back into Britain and furring up the arteries of commerce on which we all rely. That will only serve to increase transport costs for British exporters.

In addition, UK exporters will also need to comply with new customs paperwork, work with HMRC for new registrations and supply Export Health Certificates where none have been required before.

New labelling will be required for UK products of animal origin exported to the EU and some sectors, such as organic food producers, may not have their products recognised as distinct until some time after we leave.

The combination of tariffs, in some cases doubling or more the price of exports, new checks which will be time-consuming and costly, increased transport frictions and cost, new labelling, customs and SPS requirements will all create significant difficulties for food exporters – small businesses and in particular small livestock farmers would be the worst hit.
Best for Britain supporter Tim Farron MP, saw these admissions from Gove as "a slap in the face":
Michael Gove has just let the cat out of the bag. It's clear that, with Brexit fast-approaching, the myriad of fanciful promises made to sectors like farming are disappearing into thin air.

Farmers now face being put out of business by Brexit. These revelations are like a slap in the face.
Gove, for his part, promised plans to mitigate the impact on UK business by introducing tariffs on imports, but reiterated that a "no deal" Brexit would be "difficult and damaging"
The Government is, of course, doing everything it can not just to secure a deal but also to mitigate the impact of leaving without deal. The NFU and others have made strong arguments about the need to ensure stronger tariff protection for British farming than any other sector of the economy.

In particular, you have argued that we need tariffs on sheepmeat, beef, poultry, dairy, both milk and cheese; and pig meat in order to safeguard domestic production. Your concerns have been heard and announcement on new UK tariffs in a no deal scenario – with specific and robust protections for farming – will be made shortly.

We also have the power to intervene to provide direct cash support to the most vulnerable sectors and I will not hesitate to provide the support required.

But while I can and will energetically and determinedly try to deal with the consequences of no deal let no one be in any doubt how difficult and damaging it would be.
However, despite outlining these threats to British agriculture, Gove reiterated his pro-Brexit stance, wanting freedom from the Common Agricultural policy, and promising that Brexit would not see a drop in standards:
A majority of farmers voted for Brexit – as did I – and I can understand all too well why they did.

The inflexible operation of the Common Agricultural Policy – the three crop rule, the requirement to apply for support by fixed dates after wrestling with the most convoluted bureaucracy, the requirement for mapping and re-mapping which treats honest farmers with grotesque insensitivity, the rigidity with which rules on field margins and hedge cutting have been applied – all these and so much more need to be reformed fundamentally.

Life outside the EU and the CAP will allow us to apply necessary rules with greater proportionality and flexibility. The work of Dame Glenys Stacey in her outstanding report on farm inspection and regulation shows us how to reduce the regulatory and inspection burden and showcase higher standards.