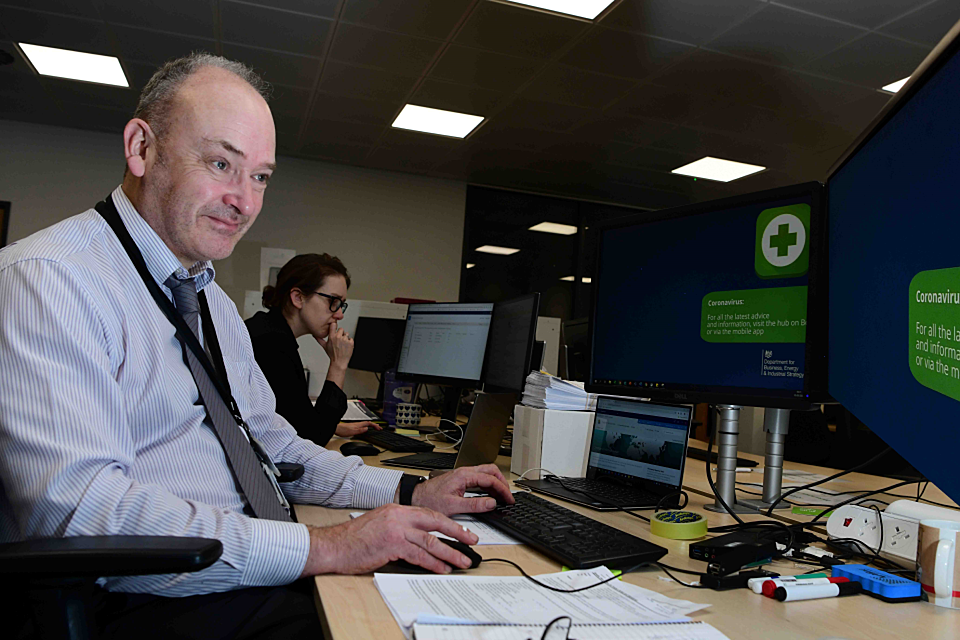 With a unique position at the heart of the UK's regulatory system, the Office for Product Safety and Standards (OPSS) is providing advice and support to local authorities, businesses, professional bodies and other government departments.
OPSS is working with local authorities and businesses to protect the public during the COVID-19 pandemic. This means supporting compliance with business closures and product safety regulations and easing regulatory burdens where possible, without compromising safety, in particular to ensure essential personal protective equipment (PPE) reaches the NHS.
In particular, OPSS has updated its business guidance on personal protective equipment to ensure businesses are aware of the administrative easements that have been agreed to speed up the supply of PPE.
Supporting vital research
The Access and Benefit Sharing (ABS) team within OPSS is advising researchers on legally accessing samples of COVID-19 from abroad. Scientists are mapping the spread of the virus to inform the UK's response, detect whether new strains are emerging and guide the development of treatments to combat the disease.
Viruses are in scope of the ABS compliance measures in force in the UK which implements the Nagoya Protocol, and there are provisions in cases of public health emergencies to ensure timely sample sharing so that this vital research is not delayed.
Tackling the rule breakers
Intelligence was received within OPSS that a business based in Germany was selling COVID-19 test kits and surgical masks that did not have the appropriate documentation to demonstrate they were safe.
The OPSS Intel team, which is coordinating the Office's intelligence sharing, informed the National Crime Agency (NCA) as part of a multi-agency response to the crisis.
The German authorities have confirmed that business is not licensed to sell medical products and has been using fraudulent documentation and certificates, and will be taking legal action against the company.
Supporting business through Primary Authority
FareShare works with a network of 17 partner organisations to provide one million meals a week to 11,000 frontline charities and community groups. Currently, it is playing a key role in food redistribution work both nationally and particularly in London through the London Food Alliance. It has received advice about safety and compliance from the Royal Borough of Greenwich through their direct and coordinated partnerships.
And the partnership between Lichfield District Council and Central England Co-op is providing a shopping assistance service to vulnerable people within the district. The council has contacted vulnerable people about the service and set up a dedicated community assistance telephone number.
The council coordinates food orders and distributes the food provided by Central England Co-op which has replicated the model with five other Midlands local authorities.
Email: opss.enquiries@beis.gov.uk for further information regarding hand sanitiser and PPE guidance or look on GOV.UK.