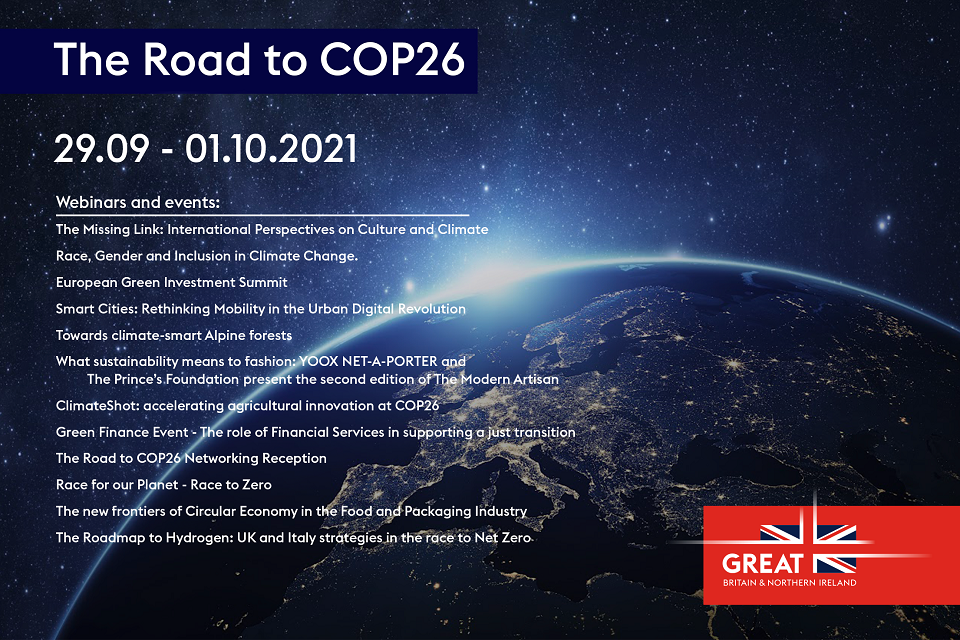 29 September – 1 October, Milan, Villa Necchi Campiglio
Eleven events in less than three days in Villa Necchi Campiglio, the UK House in Milan in the week of pre-COP. Full programme of events available here
The large UK delegation in Milan includes COP26 President-designate Alok Sharma, Minister for Investment Lord Grimstone and the UK Government's High-Level Champion for Climate Action Nigel Topping.
The UK holds the presidency of this year's COP26, the UN Summit on Climate Change, in partnership with Italy
Rome, 24 September 2021 – Villa Necchi Campiglio in Milan will host the rich programme of activities promoted by the network of British organisations in Italy: The Road to COP26.
Eleven high-level events – both in-person and online – will take place from 29 September to 1 October 2021 and will offer opportunities for exchange and discussion to ensure that Youth4Climate: Driving Ambition and PreCOP26 contribute to achieving the ambitious targets of the COP26 summit in Glasgow.
With less than 40 days left before the United Nations Climate Change Conference (COP26), Milan is getting ready to host 400 young delegates, ministers and world leaders, with the aim of advancing commitments to tackle the urgent threat of climate change and keep the temperature increase below 1.5 degrees Celsius.
The UKinItaly mission has joined the All4Climate campaign of the Italian Ministry for Energy Transition (MITE), devising an ambitious programme that features, among others, numerous personalities from the UK, including COP26 President-designate Alok Sharma, the UK Minister for Investment, Lord Grimstone, and the UK Government's High-Level Champion for the UN climate talks, Nigel Topping. The wide range of partners includes the British Council, the Department for International Trade's European network and Wilton Park.
During the presentation of The Road to COP26 in Italy, British Ambassador Jill Morris CMG commented: "For the first time, it is clear to everyone that climate is intertwined with so many key policy issues, including finance, economic development and agriculture. Much has been achieved in recent months. However, Italy and the UK – strengthened by their respective G20 and G7 leaderships and our partnership for COP26 – are ready for the final push: we must do all we can to leverage this goodwill, in Milan, Glasgow and beyond, to keep up the momentum in the fight against climate change."
The ambitious programme of events in the magnificent Villa Necchi Campiglio in the centre of Milan includes:
Wednesday 29 September
The Missing Link: International Perspectives on Culture and Climate

The British Council and non-profit Julie's Bicycle will host an international culture and environment panel discussion as part of the British Council's Climate Connection. This international panel event will explore creative and cultural responses to the climate crisis addressing how cultural policy can support and strengthen action on the environment. Presentations and performances will also showcase the creative climate movement calling for action.

Race, Gender and Inclusion in Climate Change

A group of young people come together to discuss gender and race in the context of climate change to promote inclusion and diversity for a successful Pre-COP in Milan and COP26 in Glasgow.

European Green Investment Summit

Hear from COP26 President, Alok Sharma, and the UK's Minister for Investment, Lord Grimstone in the build-up to COP26 in Glasgow and Pre-COP in Milan this year. Alok Sharma will explain how commitments from business are central to combating climate change, while Lord Grimstone will explain why the UK is the best place to grow and internationalise your business through specific investment opportunities presented by the UK Government's Ten Point Plan for a Green Industrial Revolution, green finance, R&D tax supports, and more.
Thursday 30 September
Towards Climate-smart Mountain Forests

Extreme weather events are destroying Alpine forests. Increasing tree species diversity is vital for increasing forest resilience and biodiversity. This event, delivered by Land Tirol in partnership with the British Embassy and JSC-One will explore the initiatives designed for tackling this vital issue.

Smart Cities: Rethinking Mobility in the Urban Digital Revolution

The pandemic revealed how cities are acutely vulnerable to shocks. Despite the multiple challenges, this period represents an opportunity for urban leaders to rethink cities. City managers and Italian and British businesses will discuss how to implement technologies to transform cities into sustainable, inclusive and more resilient environments.

ClimateShot: Accelerating Agricultural Innovation at COP26

Food production of the future will need to combat hunger, while respecting the climate and nature. This event, delivered by the UK Foreign, Commonwealth and Development Office, will explore the tools for transforming agricultural innovation to support communities and improve sustainability.

Anglo-Italian Financial Services Dialogue: Supporting a just transition

Organised jointly by TheCityUK, the Italian Banking, Insurance and Finance Federation and British Embassy Rome, the event will explore the role of financial services in ensuring the transition to a net-zero economy does not further inequalities and promotes economic and social development.
On the 30th September, in collaboration with YOOX, the UK Fashion for a Sustainable Future digital pop-up gallery will go live. The pop-up gallery includes 8 sustainable British brands and is aimed at demonstrating how a luxury e-commerce platform and the UK Government can jointly reach out to a global audience of young consumers and influence their buying behaviour. The gallery will be live on Yooxygen, the platform section dedicated to sustainable fashion products, from 30th September to 31st December 2021.
Friday 1 October
The New Frontiers of Circular Economy in the Food and Packaging Industry

This event will foster dialogue between British and Italian institutions and business players in the Food and Packaging industry to discuss the main challenges they are facing in implementing circular economy into daily operations and achieve sustainable growth. The conference will serve as a springboard event to a follow-on workshop with a focus on industry taking place on 25th October at 16:30 CEST during TUTTOFOOD and MEAT-TECH trade exhibitions.

The Roadmap to Hydrogen: UK and Italy Strategies in the race to Net Zero

The UK and Italy are developing their National Strategies to seize the opportunities that hydrogen generates. This event will offer a kick-off platform to compare strategies and identify synergies.

Race for our Planet

This accelerator event, in partnership with Wilton Park and with the support of the High-Level Climate Champions' team, is designed to showcase membership to 'Race to Zero' and 'Race to Resilience' and explore what this means in practice. The conference will be hosted by HM Ambassador to Italy, Jill Morris, and the UNFCCC High-Level Champions Nigel Topping and Gonzalo Muñoz. Speakers will describe their pledges, why they have chosen to commit and how they are addressing the challenges, while focusing on the conditions and policies needed to build resilience and reach net zero.
Further information
Villa Necchi Campiglio
To minimise the venue's environmental impact, FAI has launched an energy efficiency programme at Villa Necchi based on smart auditing, a digital service offering ongoing and predictive monitoring and analysis of energy consumption, aimed at ensuring a more efficient use of resources. In addition, the Villa uses non-potable groundwater for garden irrigation, for the ornamental pool and for toilets, as well as a geothermal heat pump for air conditioning in some rooms. Finally, the menu on offer during the events does not include any food with a high environmental impact and catering uses reusable or compostable materials, thus banning completely single-use plastic. Any uneaten food will be donated to the food bank, where permitted by law. Digital invitations, recycled and recyclable materials for the installations, 'Havana Paper' badges and RPET lanyards are all part of the UK House' commitment to sustainability at Villa Necchi.
What the UK has done so far:
In December 2020, the UK set out its nationally determined contribution, committing to reducing greenhouse gas emissions by at least 68% from 1990 levels by 2030, the highest level of emission reduction of any major economy to date.
Between 1990 and 2019, the UK reduced its total greenhouse gas emissions by 44%, while its economy grew by 78%.
Since 2000, the UK has decarbonised its economy faster than any other G20 country.
The UK was the first major economy to make a legally binding commitment to achieve net zero by 2050.
The UK is the world's largest producer of offshore wind energy, and the first country to end direct government support for the overseas fossil fuel energy sector.
The UK is doubling its international climate funding to support developing countries, with £11.6 billion allocated over the period 2021-2025.
Between 2011/12 and 2019/20, The UK's ICF programmes are estimated to have avoided or reduced greenhouse gas emissions by 31 million tonnes – equivalent to removing 6.7 million cars from the roads for a year.
In 2012, 40% of the electricity produced in the UK came from coal. That figure is now less than 2%, and will be brought down to zero by 2025.
The UK has announced it will stop selling new petrol and diesel cars by 2030, thus being the fastest G7 country to decarbonise cars and vans.
Over the next 5 years, at least £3 billion of international funding will be spent on nature and nature-based solutions.
Plans have been announced to put farmers at the forefront of reversing environmental decline and tackling climate change.
The low carbon sector and supply chain provide over 460,000 jobs in the UK. The ambition is to reach 2 million green jobs by 2030.