Part of DCMS' International Tech Hub Network.
Overview
Challenge
Entrepreneurs with traditional businesses needing to pivot and operate digitally to remain competitive
Solution
Specifically designed training programme targeting small, traditional businesses

Train and upskill participants on how to safely digitise their core operations and advertise online
Impact
51 entrepreneurs successfully completed the training programme

85% of participants are now regularly using digital platforms to advertise and derive value for their businesses
Background
The devastating effects Covid19 has had on the economy have been particularly felt by small, traditional businesses who typically operate from brick-and-mortar premises and/or in-person. Ongoing strict lockdown regulations have left a number of such businesses in South Africa struggling. These entrepreneurs are needing to pivot and operate virtually so they can comply with regulations, protect staff and continue to trade.
The UK-South Africa Tech Hub partnered with the GIFT Foundation – a nonprofit organisation that empowers girls and young women from poor backgrounds to be active participants in the tech industry – to deliver a targeted support programme.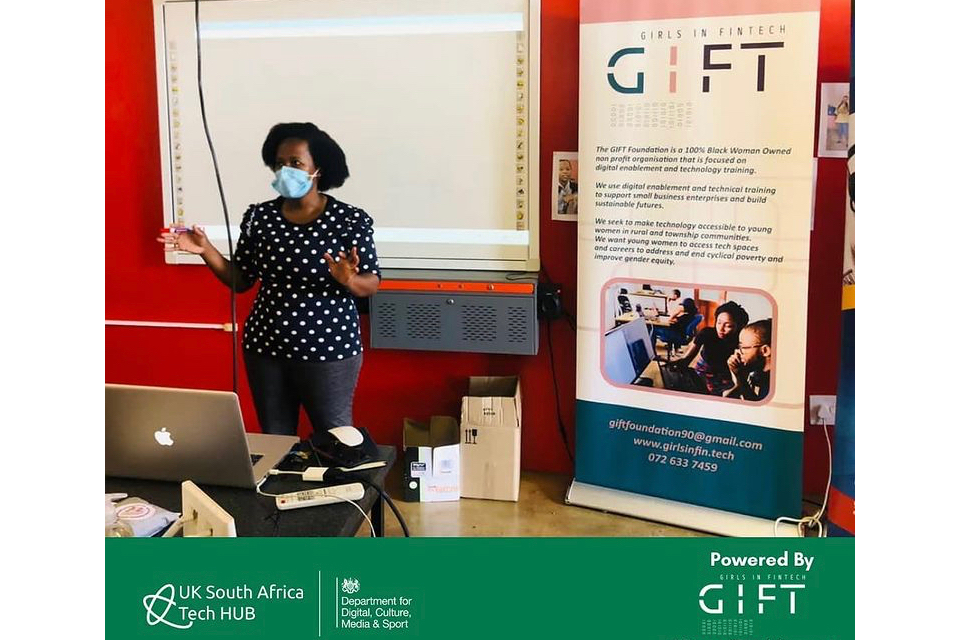 Nobukhosi Dlamini, Founder of the GIFT Foundation, is a UK-South Africa Tech Hub alumni who previously participated in multiple programmes before becoming a delivery partner for this programme.
Programme
The Digital Enablement Programme upskills entrepreneurs who operate traditional, non-tech businesses in townships and rural communities. The programme was delivered in KwaZulu-Natal and the Free State – communities which have been historically underserved and under-developed in digital skills. The GIFT foundation leveraged existing partnerships with local organisations in these areas to identify and recruit participants.
Over four months, 51 participants were trained and upskilled on digital tools and how to implement them in their businesses. Training addressed marketing strategies, cyber safety, and setting up an online shop.
The first phase was delivered in-person – to build confidence in participants who were very new to online activity and to allow trainers to build a rapport with the students ahead of the second phase, which was completed remotely.
Since concluding the programme, 85% of participants are now regularly using digital platforms to advertise and derive value for their businesses.
---
Creating an online audience for my business helped me get pre-orders before I even made the clothes
Participant Bongiwe Lesea, BangikaTati Business
---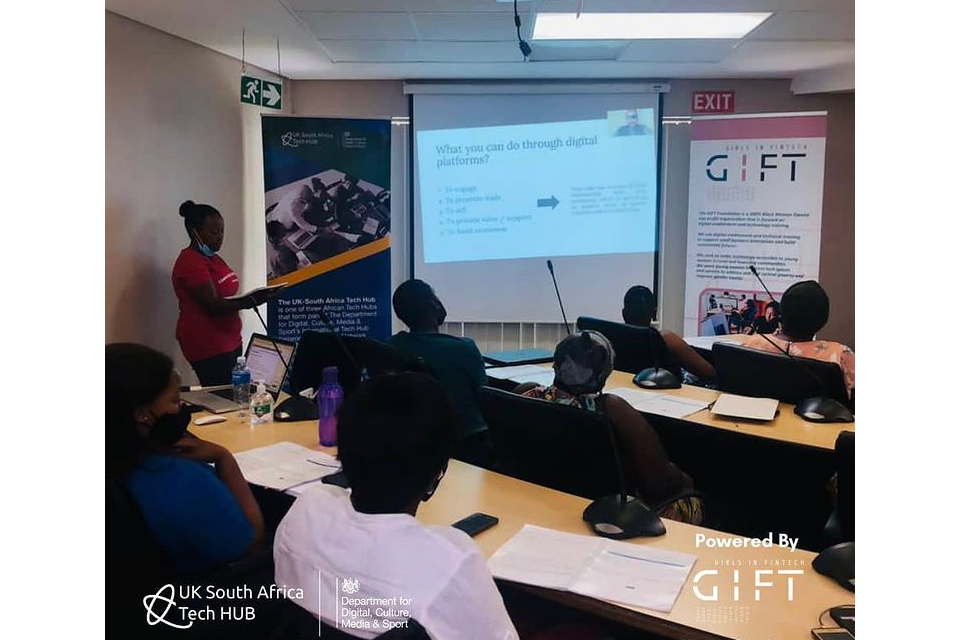 Digital platforms helped me get word out about my pizza business and I've been non-stop busy since November
Participant Thabani Dube, The Pizza Guy
---
Tech Hub leadership
The UK-South Africa Tech Hub sponsored all 51 participants of the Digital Enablement Programme, which forms part of the Hub's portfolio of projects working to support, connect, grow and mature the South African digital economy.
Looking to the future
The Hub has ambitions to expand the programme into other communities, with a target of reaching a further 150 small business owners who are currently running traditional, non-technical businesses in under-served provinces in South Africa.
For more information
Read local media coverage of the partnership:
Venture Burn: New programme launches to digitise SA township SMEs
Graduation video can be viewed here
UK-South Africa Tech Hub alumni profile post on Nobukhosi Dlamini can be viewed here
More about the Digital Enablement Programme and the UK-South Africa Tech Hub
To learn more about the UK-South Africa Tech Hub, or the Digital Enablement Programme, please contact: uksatechhub@fcdo.gov.uk.
The UK government's Department for Digital, Culture, Media & Sport (DCMS) is building a global network of Tech Hubs. The International Tech Hub Network aims to forge innovation partnerships between the UK and international tech sectors, stimulate local digital economies; and build high-end digital skills to drive sustainable jobs and growth.
Contact the network at: international-tech-hub-network@dcms.gov.uk