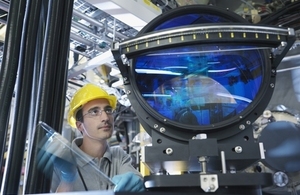 UKAEA will be running a series of supply chain events during 2020 to showcase its major projects and highlight the contract opportunities they offer. With increased Government investment in fusion and new test centres working with academic and industrial partners, it is a great time to get involved and work with us.
Projects covered will include:
STEP, the UK fusion powerplant project

RACE (UKAEA's robotics centre)

New Fusion Technology Facilities at Culham and at Rotherham

The H3AT tritium research facility

Opportunities at ITER, the international fusion experiment based at Cadarache, France

Development of the Culham Science Centre campus
The first event will be held at the Manufacturing Technology Centre, Coventry on Tuesday 11 February and you can register interest at the link below.
UKAEA senior managers and procurement staff will be on hand to discuss the opportunities and how you can work with us.
If you are unable to make the first event, please visit the website to subscribe for future event updates.
Published 6 January 2020