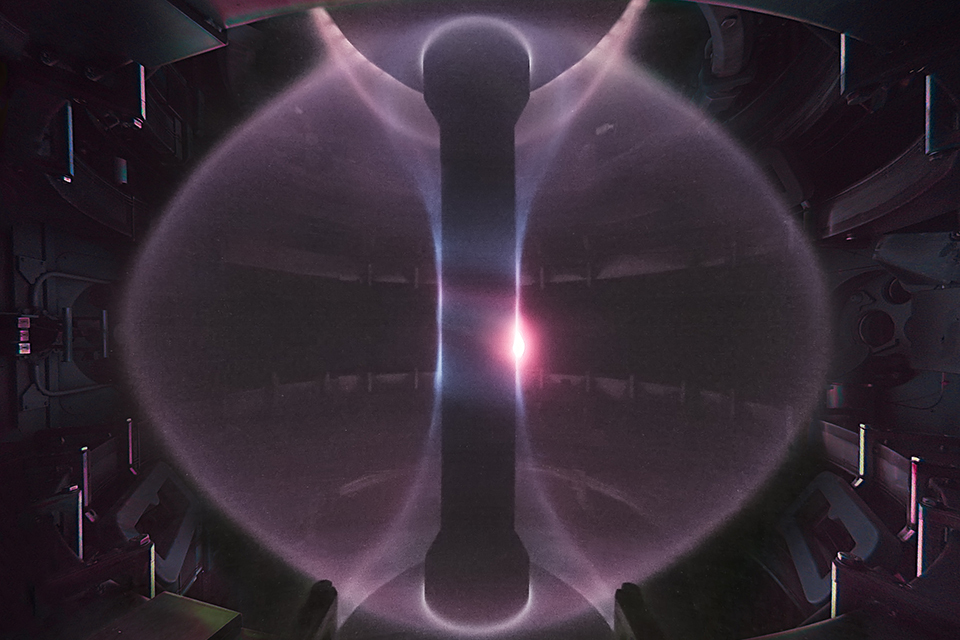 The UK Atomic Energy Authority (UKAEA) has completed a pilot project working with five companies to tackle some of fusion energy's most complex challenges.
The initiative, called the 'Fusion Innovation Challenge', threw down the gauntlet to industry experts within UKAEA's Engineering Design Services framework to develop technologies that can unlock fusion's huge potential to supply sustainable energy in a net-zero future.
Following the success of the pilot, UKAEA plans to open up more innovation challenges beyond the framework as it strengthens collaboration with the private sector to accelerate fusion development.
Fusion energy replicates the power of the sun and stars. When commercialised, it could offer abundant supplies of low-carbon electricity around the world.
UKAEA runs the UK's national fusion research programme. It set out a series of challenges and invited companies to submit their approaches using original ideas or successful tech- or engineering-led solutions adapted from other fields.
The initial £350,000 scheme saw eleven contracts on eight topics awarded to Atkins, Frazer-Nash Consultancy, IDOM, Jacobs, and M5Tec, who collaborated with other members of the supply chain, including both industrial and research organisations.
The series of challenges tackled in the project ranged from new approaches to: machinery capable of operating in the strong magnetic fields in 'tokamak' fusion devices; construction of bioshields for fusion plants; designs for transferring heat in pipes within the tokamak complex; and more.
The pilot project has produced new technologies that address these challenges. It has also shown the value of transferring expertise from other sectors and looking at fusion development from new perspectives.
UKAEA's Chief Technology Officer Tim Bestwick said:
"Fusion could make a vital contribution to future low-carbon energy production. Collective problem-solving and the latest innovations in materials and other technologies will help us to overcome the remaining technical challenges.
"This successful pilot scheme has seen UKAEA working with industrial partners to address such challenges. It is an approach we believe is very much part of the future of fusion energy development."
Notes to Editors
UK Atomic Energy Authority
The UK Atomic Energy Authority (UKAEA) carries out fusion energy research on behalf of the UK Government at Culham Science Centre near Oxford. UKAEA oversees Britain's fusion programme, headed by the MAST Upgrade (Mega Amp Spherical Tokamak) experiment. It also hosts the world's largest fusion research facility, JET (Joint European Torus), which it operates for European scientists under a contract with the European Commission.
Fusion research at Culham is funded by the Engineering & Physical Sciences Research Council (EPSRC) and by the European Union under the EURATOM treaty.
Fusion energy
Fusion has huge potential to supply electricity that is carbon-free and inherently safe, with abundant and widespread fuel resources (the raw materials are found in seawater and the Earth's crust).
Fusion is the process which powers the sun and all stars, and researchers aim to develop this for a new large-scale source of cleaner energy here on earth. When light atomic nuclei fuse together to form heavier ones, a large amount of energy is released. To do this, fuel is heated to extreme temperatures, hotter than the centre of the sun, forming a hot gas or 'plasma' in which fusion reactions begin to occur.
A commercial power station will use the energy produced by fusion reactions to generate electricity. The leading design for a commercial fusion device is known as a 'tokamak'. This is a magnetic container which confines the hot plasma fuel, allowing fusion reactions take place.
For media enquiries please contact Nick Holloway, UKAEA Media Manager, at nick.holloway@ukaea.uk.