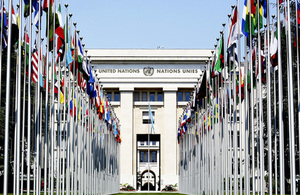 Thank you, Mr President
The United Kingdom would like to thank the Special Rapporteurs for their reports. Both are stark reminders of the negative consequences of digital technologies if used by states to restrict freedoms.
The Special Rapporteur on Freedom of Expression points to the impact on journalists and human rights defenders of surveillance technologies. We will defend their rights. That is why we are leading a Global Campaign to Defend Media Freedom and co-hosting, with the Canadian Government, a conference next month on media freedom. We want to shine a global spotlight on this issue and raise the cost for those who seek to silence journalists.
We are calling on those attending to sign up to a pledge to protect media freedom, to draw up National Action Plans and to contribute to a new Global Media Defence Fund.
Mr President
The UK is concerned about the impact of digital technology when used to silence and harass those who wish to peacefully challenge, discuss and debate. The use of internet shutdowns is growing year by year by many states across the world. The NGO Access Now reports that 2018 saw 188 internet shutdowns: a significant rise from 108 shutdowns in 2017. This action alone is a significant step by States to restrict freedom of assembly and association and one the UK is working to counter by partnering with Access Now on its #KeepItOn campaign.
What challenges do the Special Rapporteurs' foresee in the coming year to these freedoms and what actions do they recommend that Human Rights Council members take collectively to counter them?
Published 26 June 2019