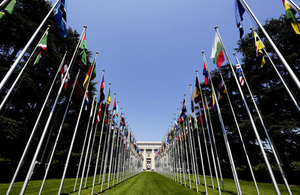 The United Kingdom welcomes the Secretary General's report, and would like to thank both Secretary General and Assistant Secretary General Gilmore for their efforts to counter the instances of reprisals against those who bravely choose to co-operate with the UN.
The report highlights the specific risks faced by indigenous people and those working to defend their rights. Defending the rights of others often comes at great personal cost. In 2018, 321 human rights defenders were killed: 77% of those killed were defending land, environmental and indigenous peoples' rights. It is vital that we work together to create a safe and enabling environment for all human rights defenders to work freely and safely, and to allow open and transparent discussion and co-operation.
The UK has this year published a document that sets out our support for human rights defenders. This document, available on the central UK government website and in all six official UN languages, makes clear the UK's support for those human rights defenders who may need our help.
Mr President,
We would like to ask Assistant Secretary-General Gilmour, what he sees as the main obstacles for countering reprisals, and how states can reassure the NGO and human rights defenders' communities that their contributions in the field of human rights are valued and very much needed?
Published 19 September 2019