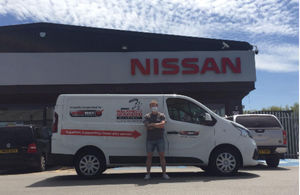 The vehicle was provided by West Way Manchester who are proud supporters of the Armed Forces Community. The vehicle will help the volunteers deliver supplies to key workers and vulnerable people within their local community.
What is OP-REGEN?
Walking With The Wounded are working with the Global Production Squad (GPS), providing ex-service men and women to work on the front lines to assist those affected by COVID-19.
Using the skills they acquired in the military; planning, logistics, coordination and communication, volunteers work alongside local businesses, councils, schools and individuals to regenerate their communities: empowering them to regain their independence, thrive and contribute in the community.
To read the full story and find out more about the veterans supporting Manchester City Council through the Op-REGEN initiative, visit the WWTW website.
Published 19 June 2020