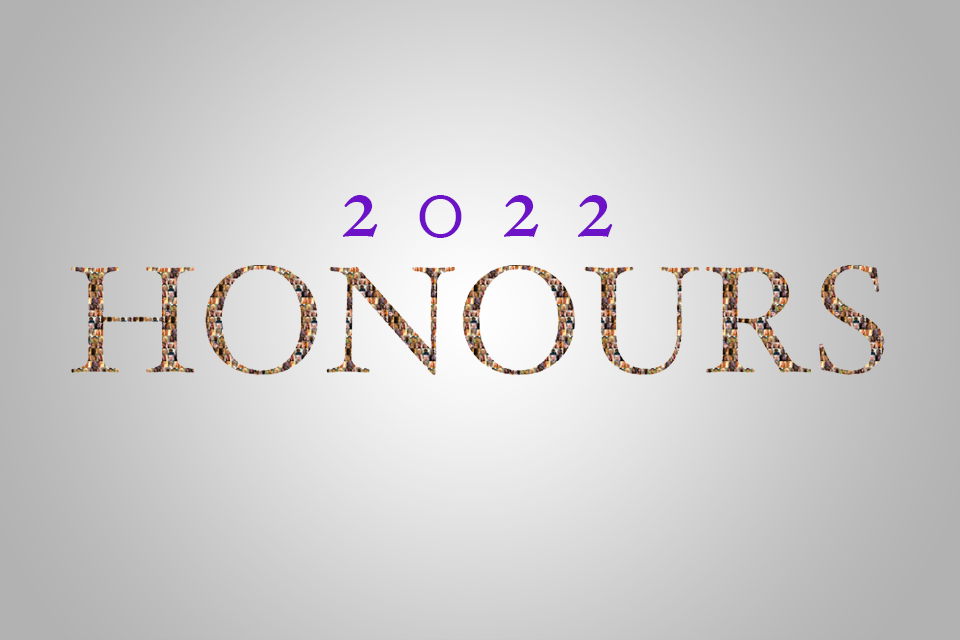 The New Year Honours list recognises the accomplishments of extraordinary people from all backgrounds across the United Kingdom.
Recipients from Wales in the 2022 list include Olympians Hannah Mills (OBE) for her services to sailing and environmental campaigning and Lauren Price (MBE) for services to boxing. Paralympian David Smith (OBE) has also been recognised for his tremendous service to the sport of Boccia alongside James Roberts who has received a MBE for services to wheelchair rugby.
Chief Medical Officer for Wales Dr Frank Atherton receives a knighthood for the leadership role he has played in Wales throughout the Covid-19 pandemic while former Vice Chancellor of the University of South Wales Professor Julie Lydon has been awarded a damehood for her services to higher education.
Numerous people from across Wales including Maureen Davies (BEM for services to communities in Anglesey) and Joshua Reeves (BEM for his work with people with disabilities) have been honoured for their services to communities across Wales and further afield.
The Welsh Secretary expressed his gratitude to the recipients for their commitment, hard work and inspiring achievements.
Secretary of State for Wales Simon Hart said:
I am once again inspired by the stories of the many people from across Wales who have deservedly been recognised on the New Year Honours list.

During an extremely challenging year, these recipients have continued to make outstanding contributions to communities all over Wales.

It is fantastic to see Welsh recipients from a wide range of backgrounds being recognised. I am thrilled that their commitment to their communities, sport and health services have been commended.

I would like to congratulate all the worthy recipients and thank them for their invaluable work.
Congratulating Paralympian David Smith, who received an OBE for services to the sport Boccia, Welsh Secretary Simon Hart said:
Earlier this year David became Britain's most decorated Boccia player of all time. This outstanding accomplishment and his commitment to his sport make him a truly inspiring individual.

David is an extraordinary athlete and a well-deserved recipient of this honour. Congratulations David.
As well as keeping the customers at Asda safe as a COVID safety marshal, Jo has gone above and beyond engage with her community throughout the pandemic – not only raising thousands of pounds for local and national charities but by also learning Welsh to better communicate with everyone who uses the store.

Her positivity and dedication to her community is outstanding. She is a deserved recipient of this honour.
Congratulating Joshua Reeves, who received a BEM for service to people with disabilities, Welsh Secretary Simon Hart said:
Joshua has carried out fantastic work as a disability rights activist and campaigner.

As well as educating people on disability related issues here in Wales, he also campaigns globally. I thank him for his commitment to improving the lives of disabled people in Wales and beyond.
Congratulating Maureen Davies, who received a BEM for voluntary and public service on Anglesey, Welsh Secretary Simon Hart said:
Maureen has devoted 45 years to Girl Guiding UK, acting as a role model for hundreds of girls across Anglesey. Her admirable work and long service means that this award is highly deserved. Congratulations Maureen.
Congratulating Bnar Talabani, who received a MBE for services to the NHS and to the accessibility of the COVID-19 vaccination to ethnic minority communities in Wales, Welsh Secretary Simon Hart said:
Bnar has overcome hardship to become an esteemed Kidney and Transplant Medical Specialist.

Her work to promote health and well-being in Muslim and BAME communities and her efforts to dispel misunderstandings surrounding the COVID-19 vaccine have been invaluable.

I extend my thanks for all she has done to assist the vaccination programme and congratulate her on her well-deserved honour.
Congratulating Lauren Price, who received a MBE for services to boxing, Welsh Secretary Simon Hart said:
Lauren's exploits for Team GB in Tokyo over the summer thrilled millions of people back home in Wales and the rest of the UK. Lauren is an exceptional athlete and a true inspiration to others. Her successes in kickboxing, football and boxing demonstrate her outstanding commitment, skill and drive.

Congratulations to Lauren on this well-deserved honour.
Congratulating Alison Williams, who received a MBE for services to education and the community in Swansea, Welsh Secretary Simon Hart said:
As well as leading a successful primary school, Alison also serves the community by helping to fund a community park, allotment, skate ramp and holiday clubs. Her commitment to her pupils and her selfless determination to give back to her community is inspiring.

I'd like to extend my warmest congratulations to Alison on receipt of this honour.
Notes to editors
The full honours list will be published on gov.uk at 22.30 on Friday 31 December 2021.