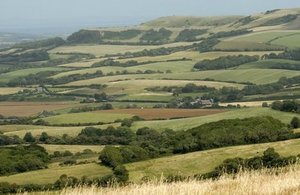 This cash injection will maintain the level of funding for Direct Payments at the same rate as last year.
This will provide certainty for farmers, giving them confidence for next year.
Welsh Secretary Simon Hart has today (Monday 30 December) welcomed the Chancellor's announcement that the Welsh Government will receive £243 million of UK Government funding to support farmers once the UK leaves the EU next year.
Sajid Javid confirmed the cash will be used to support farmers once the UK leaves the Common Agricultural Policy Direct Payments scheme, allowing farmers across Wales to plan for the future, sow their crops and care for their livestock with confidence.
Chancellor of the Exchequer, Sajid Javid, said:
When we leave the EU and are freed from the Common Agricultural Policy, we will be able to support our vital rural communities – who are a cornerstone of life in the UK – with a fairer and less bureaucratic system.

Farmers can enter the New Year with confidence that they have our backing and will be able to thrive after Brexit.
While welcoming this announcement, the National Union of Farmers (NFU), demanded assurances that British industry and agriculture was not undermined by imports produced to lower standards. 7
NFU Director of EU Exit, Nick von Westenholz, said:
"To ensure a positive outlook for UK farming after we leave the EU the government will need to couple this financial guarantee of support for our industry with a clear-cut commitment that domestic producers will not be unfairly undermined by imports from overseas produced to standards that would be illegal here.

"We are still waiting for the introduction of a council on trade and standards that can advise ministers on our future trade policy and scrutinise the forthcoming negotiations to ensure our high farming standards are not undermined by substandard imports.

"We look forward to working with the government in the months ahead, both in designing and implementing a future agricultural policy that will support sustainable food production in the UK, but also in leading the world in pursuing a progressive and sustainable trade policy that has our high environmental and welfare standards at is heart."
The Liberal Democrats have however insisted that this pledge represents a drop in funding of up to £120million, roughly one-third of the money currently received from the EU, and only covers the next years funding. During the election, the Conservatives made numerous pledges to support Welsh Farmers and guarantee existing funding would be matched.
Jane Dodds, Leader of the Welsh Liberal Democrats said:
"Brexit is already threatening the livelihoods of our farmers, especially given the threat of no deal at the end of 2020. They need certainty and security, not less support and additional barriers to trade.

"It is therefore incredibly concerning that the Conservatives are exacerbating this by planning to shortchange Welsh farmers to the tune of £120million.

"This is a far cry from the grand promises that were made to Welsh farmers and is just another case of Conservatives saying one thing at an election and then doing another afterwards.

"The Welsh Liberal Democrats demand better for our farmers. The Conservatives must honour their commitment to guarantee existing funding in full and stop playing political games with our farmers' futures."
Welsh Secretary, Simon Hart, said:
This funding demonstrates the UK Government's commitment to providing certainty and support for Wales' farmers. It also highlights the vast opportunities available to us as we leave the European Union.

Taking back control of this funding will allow us to better represent the people we serve, ensuring that our farming communities have exactly what they need to flourish after we leave the European Union.